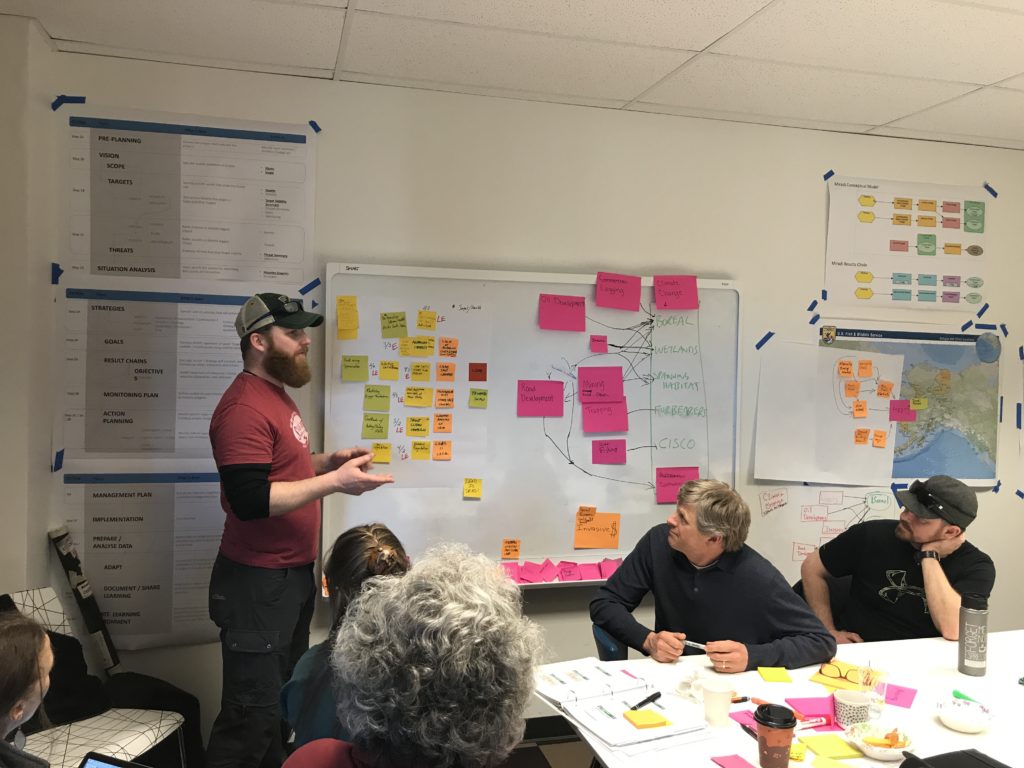 USFWS-Alaska staff participating in the Open Standards training course discuss threats to Tetlin National Wildlife Refuge. Photo by Ian Dutton.
Fifteen U.S. Fish and Wildlife staff from Alaska participated in a comprehensive Open Standards training course in April. Led by coaches Ian Dutton and Katherine Schake (Nautilus Impact Investing) and Carol Damberg (USFWS), participants practiced applying Open Standards techniques to issues associated with Tetlin National Wildlife Refuge and Yukon Delta National Wildlife Refuge. The training also featured case studies of existing uses of Open Standards throughout Alaska as well as case studies from relevant projects in Australia, Mongolia, and Nevada.
In August of 2017, local tribal, nonprofit, and government agencies participated in a series of Healthy Country Planning seminars hosted by Nautilus Impact Investing and presented by Stuart Cowell (Conservation Management Australia). That work will be carried forward in climate change adaptation planning in the Yukon-Kuskokwim Delta region in 2018. For more information, contact Sarah Warnock (Nautilus Impact Investing).
Story submitted by Ian Dutton (Nautilus Impact Investing) and Carol Damberg (USFWS)