Dear coaches and friends of the Conservation Coaches Network!
Approximately every two years we come together to connect, share innovations, sharpen our skills, and uplift our spirits to support conservation practitioners to do better, smarter conservation all around the world.
In response to community requests to hold our next event in North America after having had our last two in Spain and Australia, and recognizing the good work and growth in the use of the Conservation Standards and Healthy Country Planning in Canada, our board has decided to host our next global gathering in Victoria, British Columbia, Canada!
Our CCNet community gathering was planned for May of 2020, but was postponed due to the global COVID-19 pandemic.  We have decided to re-schedule our global gathering for October of 2022 and we hope to see you there! We will communicate updates here and also through CCNet's listserv and the CCNet News.
We understand these are times of high uncertainty, and we are adapting as best as possible. We will update program information on this site starting in June.
If you have previously attended a Rally, you can expect a similar experience in regards to valuable learning and sharing opportunities, enriching connections with a diversity of peers and a chance to celebrate each other and our community. The format will be in a more modest version, since we are considering an attendance of around 100 people maximum and we will offer three concurrent sessions for you to choose from at a given time.
In the meantime, take care, stay healthy and we are looking forward to seeing you in Victoria in October 2022!
Your CCNet Rally Planning Team.
Where? We found a stunning venue, the Oak Bay Beach Hotel, located in Victoria, British Columbia, Canada. Check out the Oak Bay Beach Hotel. All reservations need to be made by CCNet through the Rally registration process, please do not contact the hotel directly.
When? The event will take place from October 17th – 21nd (plan to arrive on October 17th and leave in the early evening on the 20th (or in the late afternoon on the 21st if you are on the CCNet or CMP Board) – sessions and general Rally activities will be held from October 18-20.
Who? We welcome active and aspiring conservation coaches, Conservation Measures Partnership members, friends of CCNet, and practitioners familiar with the Conservation Standards.
Program: We will share program information and updates here starting in June. Here you can find a preliminary program and list of sessions.
How do I get there? Victoria is on Vancouver Island. The best option is to arrive in Victoria, Canada, the airport code is YYJ. Alternatively, if you are planning to come early, you can arrive in Vancouver, Canada, (airport code is YVR) and take a 4 hour ferry & transit ride to Victoria. Another alternative also is arriving in Seattle, USA, the airport code is SEA, and then take a bus (4-5 hours) or ferry (3 hours) + border crossing. Note that the Seattle option might be complicated for people with a single-entry visa to the USA. We will provide more detailed local transportation instructions in our Rally materials.
Visa and health requirements: Depending on your citizenship, you might need either a visa or an Electronic Travel Authorization (eTA), to come to Canada by any method of travel – plane, car, bus, train, or cruise ship. On this link you can find more guidance on visa requirements. Allow sufficient time for this process! If you need an invitation letter, Natalie Busby (nbusby@tnc.org) or Cristina Lasch (clasch@tnc.org) will be happy to help you. Make sure to send them: your full name, organization where you work and city and country where you are based. Due to the global health pandemic, it is possible that several countries and airlines might have specific health requirements. Please make sure to check and comply with those requirements. We will do our best to share links to Canadian regulations, but feel free to contact us if you need advice.
Registration? Registration will open in June 30 and will close on August 15, 2022. REGISTER HERE.
Costs? Estimated costs per person for the duration of the Rally are based on lodging and taxes for 3 nights- please note that you might need more nights depending on your travel plans. The registration fee will be paid to CCNet, and lodging costs will be paid by participants directly at the venue. We are extremely grateful to the Oak Bay Beach Hotel, for maintaining the same costs as established for our event in 2020.
The registration fee covers all meals during the Rally starting with dinner on October 17 and ending with afternoon snacks on October 20, workshop materials, and other event costs. Please note that the registration fee does not include any lodging costs, nor miscellaneous charges that are not part of the Rally at the hotel, participants will pay these costs directly at the hotel. Participants will also be responsible for covering their own travel expenses and incidentals.
Registration Fees must be paid in full by August 31, 2022. Any cancellations after September 12, 2022, will not be refunded. No-shows are also not refundable. Cancellations due to testing positive for COVID-19, will be credited to a future CCNet event.
You can pay your registration fee online. Please use this secure link for payment if you don't work for TNC. TNC staff paying with a project, please use this link.
We will work hard to raise funds to help coaches get to the Rally and your support will be crucial to achieve this.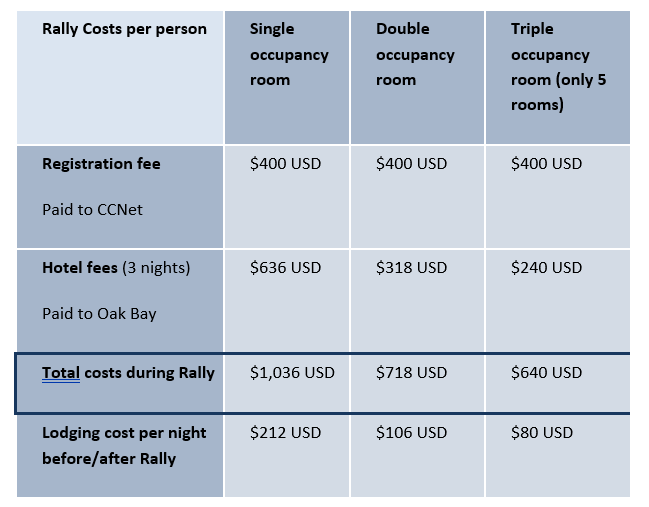 More info? Contact Cristina Lasch (clasch@tnc.org) if you have questions or would like to support the Rally or sponsor a coach.