This workshop will teach participants the overarching philosophy, underlying principles, and specific steps of effective conservation planning based on the globally used Open Standards for the Practice of Conservation.
When? October 23rd (evening) through 25th, 2017.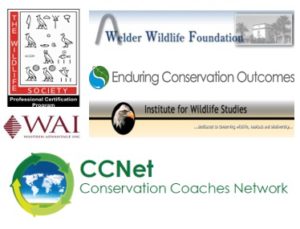 Where? Welder Wildlife Foundation, Sinton, Texas.
Instructors: Andrew Bridges, Quinn Shurtliff, and Robert Sutter.
Cost? The workshop fee is $795/student, which includes catered meals and 3 nights lodging. Space is limited.
For more information check out the flier. To be added to the attendee list, please email Andrew Bridges at bridges@iws.org (please CC quinn.shurtliff@wastrenadvantage.com).