Story from Rob Sutter (Enduring Conservation Outcomes)
The Canadian Province of Saskatchewan is using the Conservation Standards to develop Habitat Management Plans for each of the four ecozones in the Province: Boreal Taiga Shield, Boreal Plain, Parkland, and Prairie. Each ecozone has a team of 8 to 12 experts from different Provincial Ministries working on its plan. The Ministry of Environment is leading the planning project, while Rob Sutter (Enduring Conservation Outcomes and NaturePlan) is facilitating the process.  
Six video conference-training sessions and four workshops ensured that the teams were well-prepared to develop effective plans. Each team addressed targets, viability, threats, strategies, results chains, and measures over the course of two workshops. The Plus/Delta exercise at the end of the last session was particularly satisfying. Identified pluses included: 
Breaking down silos across and within Ministries

 

Developing the plan at the workshop. Photo by Rob Sutter.

The explicit, visual, and color-coded nature of the Conservation Standards

 

Thinking at a large scale and about systemic, transformative change

 
The value of intermediate results

 

The Conservation Standard's ability to represent complexity

 

Learning how to curl (my personal biggest plus!)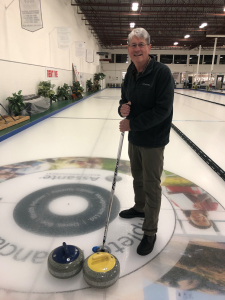 This project has resulted in a lot of synergies. The Ministry of Environment wants to use the Conservation Standards for a protected area plan as part of a strategic approach to protect 12% of the land and water in the province. Environment Canada will be using the Conservation Standards to plan for three grassland priority places in Manitoba, Saskatchewan, and Alberta and to manage community pastures in southern Saskatchewan.