Story by Stewart Cowell, Director at Conservation Management
Over the past 10 years, and at least the last three CCNet Rallies, the idea of Coach Certification has been discussed and explored. Following the Barcelona Rally in 2015, a number of coaches have been working together to take the idea and bring it to implementation through a second party certification process.
This is because we perceive there is a rising desire, and need, for a coach certification program to advance the professional recognition of conservation coaching. That growing desire is driven by an increasing recognition of the benefits of such an approach:
Acknowledgement of peers;
Professional recognition that someone has important skills to offer;
Eventually, advantage in application for jobs, consultancies;
Drive improvement in the practice of coaching;
Assurance to anyone contracting a coach that they are getting the services of a qualified coach;
Reduced risk to the reputation of the Open Standards arising from a poor coaching experience.
Over the past two years the team has been developing and testing an approach to certification that could be applied generally and equitably across the Conservation Coaches Network. Certification will follow this process: if a person would like to be certified, they will submit an application to CCNet with supporting evidence; a small group of 'senior' Coaches (named by the CCNet Certification team) will then review and assess the application and 'award' the Certification. That's it.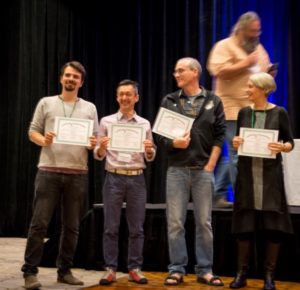 At the 2018 Rally, we presented our first 'test' subjects who have been working to develop the process and principles as our first Certified Coaches, and we thank them again for their hard work and support.
The first cadre of colleagues who went through the review process and were certified, includes: Felix Cybulla, Oscar Maldonado, Nick Salafsky, Pip Walsh, Ilke Tilders,  Robert Sutter, John Morrison and Stuart Cowell.
We are now refining our approach from what we have learned and will hold a second invitation round in early 2019. We will announce this through the CCNet listserv and web site.
For more information on the Conservation Coach Certification process, please contact Stuart Cowell and John Morrison.