Story from Xavi Escuté, Fundació Catalunya-La Pedrera / CCNet Europe co-leader 
During the first week of April 2019, in beautiful Vålådalen, Sweden, CCNet Europe and The Swedish Environmental Protection Agency hosted the third New Coach Training in Europe. Coaches John Morrison (CCNet Global/WWF US), Xavier Escuté (Fundació Catalunya La Pedrera), and Jenny Hertzman (Blenkinge Country Administrative Board) trained 18 talented participants from 14 countries. 
The setting was incredible and we enjoyed the weather, which was what the Swedish call the Fifth Season, or Spring-Winter. We had everything from snow to sun and managed to find time in between training activities to go cross-country skiing at night to hear owls, gather around a campfire in the snow, build a snowman, and take a snow-shoeing fieldtrip through the fantastic landscape.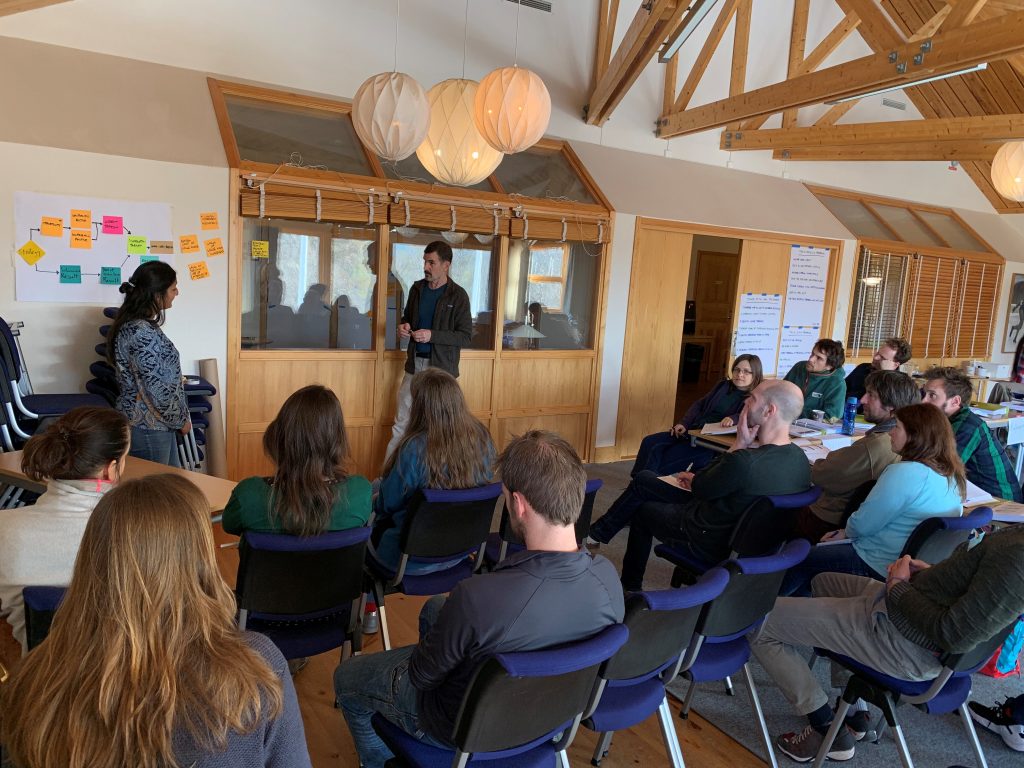 Practitioners at the Conservation Coaches training in Sweden, 2019. Photo Credit: CCNet Europe
The New Coach Training was followed by the 4th European Coaches Rally where 32 coaches gathered to share innovations and experiences, learn from each other, and to celebrate our network.  
The Rally agenda included sessions on "going full cycle," systems for adaptive management, climate-smart OS, flipping an organisation, tools for prioritizing strategies, using the OS for planning and managing a marine protected area network, and campfire stories about coaching experiences around the world. During a plenary session, we presented the new CCNet Europe Strategic Plan and our new website and reflected on what CCNet Europe is for us 
We would like to thank the coaches who contributed to these events as well as the Swedish Environmental Protection Agency for their generous financial and logistical support! 
Images below from the CCNet Europe Rally shared by CCNet Europe.