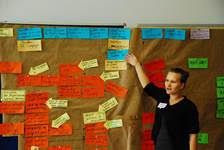 Story from Felix Cybulla, Independent Consultant and CCNet Coach in Europe
For the second time now, students have successfully taught other students the Open Standards. This past spring at the Technical University Berlin, a group of 20 undergraduate and graduate students participated in the intensive eight-day Adaptive Conservation Site Management course. With the help of coaches from CCNet Europe, the student leaders led the course participants through a case study of a nearby conservation site, introduced the Open Standards methodology, and facilitated practical working sessions. On the second weekend, the class camped at the study site, the Biosphere Reserve Schorfheide Chorin. The excursion included a guided tour, interviews with local stakeholders, and a visit to an eco-village located inside the Reserve. Participants were able to ask questions that had emerged during their working sessions, bridge the gap between Open Standards theory and practical application in the Reserve. The class leaders are looking forward to future courses and are aiming to establish a full Open Standards course at the university.
The course is led by students Marion Tiemann and Anna Steger and CCNet Coach Felix Cybulla.