There is an increasing amount of Open Standards guidance being produced these days, by both organizations and individuals.  This is fabulous, but it can make it more challenging for conservation practitioners (especially those who are just beginning to use the Open Standards) to find the best materials on a particular topic (e.g., guidance on how to build a conceptual model) or the most appropriate guidance for his or her specific needs (e.g., how to build a conceptual model with indigenous groups).
The CMP-CCNet Guidance Committee (henceforth referred to as "the Committee") was created in early 2014 by representatives of CMP and CCNet, to help conservation practitioners find the most appropriate OS guidance to meet their needs, by doing the following:
upon request, vetting guidance that is designed to help conservation practitioners implement the CMP Open Standards
posting OS guidance with ratings and a description, and
in cases when guidance could be improved, providing feedback to the authors.
Who is Currently on the Committee?
The Committee is composed of individuals with several years of experience applying the CMP Open Standards for the Practice of Conservation (OS), teaching others, and (in many cases) developing guidance.  All are CCNet coaches and/or representatives of CMP member organizations.  Most importantly, they are willing and able to devote time to reviewing and rating Open Standards guidance.  Currently, the Committee includes:
John Morrison, WWF-US, CCNet Global Coordinator and CCNet representative to CMP
Will Beale, WWF-UK representative to CMP
Terri Schulz, TNC Colorado and CCNet Franchise Lead for the North American Rocky Mountain and Pacific Northwest Region and Canada
Wendy Dunford, Canadian Wildlife Service – Environment Canada
Karl Didier, Independent Consultant and Conservation Coach
Caroline Stem, Foundations of Success and FOS representative to CMP
Daniel Sprod, Independent Consultant and Conservation Coach in Australia
Marcia Brown, Foundations of Success and member of the CCNet Coordinating Team (Committee Coordinator)
Process for Vetting OS Guidance
The Committee only vets guidance upon request and only OS-related guidance.  Anyone can request that we vet their OS-related guidance.  We review materials in the order in which we receive them.  When someone requests that we vet their materials, we post the materials right away, with a "not vetted yet" tag.
The Committee meets once per month, via webinar.  We each review and rate the materials before the meeting and come prepared to discuss our comments and ratings and agree on a group rating.  We have a rule that we can only establish a group rating if at least 4 members (from at least 3 organizations) have provided their overall rating of the material.  We use these individuals' ratings to decide on a group rating.
Once we have agreed on a final rating, a member of the Committee writes a short description of the guidance and Daniel Sprod posts the guidance onto the OS website. The description should mention whether the materials are best for a specific audience (e.g., beginners vs. advanced, coaches working with indigenous groups, practitioners working on fundraising, etc.).  It may describe valuable aspects of the guidance or other things that coaches should know (e.g., "this is an older piece, written specifically for TNC, but it includes an excellent explanation of why and how to conduct a viability assessment").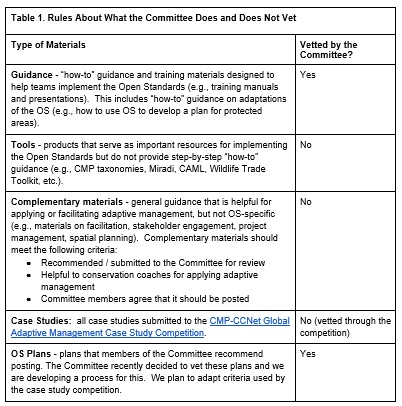 Criteria and Final Ratings
Committee members agreed on the following criteria for vetting guidance:
Is the guidance explained well enough for a conservation practitioner to apply it on his or her own? Includes whether it:

is written clearly
covers the topic comprehensively
includes good examples (both simple and complex examples)
is visually appealing (e.g., without too much text, with images that are clear and understandable, a consistent font, etc.)
shows best practice (hands-on advice) for applying it

Whether it is practical, including:

If the tools in the guidance have the right level of detail
If the guidance has been tested in the field (if it is possible to know this)

Whether it is consistent with the Open Standards, including:

If it uses standard CMP/Miradi terminology
If it is aligned with CMP basic guidance
If it uses the standard Miradi graphical / color scheme
In some cases, the Committee has developed specific criteria for particular sub-steps (e.g., situation analysis) or types of materials (e.g., PPTs should contain notes that are complete enough for another person to give the presentation).
 The options for final ratings include:
Excellent: This guidance meets all or most of our criteria for high quality Open Standards (OS) guidance.  It is fully consistent with the OS, explained well enough for conservation practitioners to apply it on their own, and practical.
Very Good: This guidance meets most of our criteria for high quality OS guidance but there is one area in which it could be improved, either to make it more consistent with the OS, more practical, or easier for conservation practitioners to use on their own.
Satisfactory: This guidance does not meet several of our criteria for high quality OS guidance but it contains content that conservation practitioners could find useful for a specific step or tool.
Unsatisfactory: Has content on the specific step or tool, but is confusing, too complex or not complete enough.  We do not post guidance that we have rated as unsatisfactory.  Instead, we provide recommendations to the authors for improving the guidance.
In the case of pieces that cover several steps (e.g., FOS training manual), the Committee provides an overall rating that represents the majority of the ratings of the individual components and, in the description, notes relevant issues (e.g., "this manual does not cover human wellbeing targets and does not cover climate adaptation") and if specific components received different ratings.
When guidance is available in foreign languages, the following rules apply:
If it is a translation of material that has been rated, it gets the same rating.
If it is new material in a language that we do not speak (e.g., a guide to threat rating written in Ukrainian), we post it with a "not vetted" tag.
If it is written in a language that some of us speak (such as Spanish), one or more Committee members can give it a rating.
If you have guidance that you would like the Committee to review or if you would like to participate on the Committee, please contact Marcia Brown at marcia@fosonline.org
Curious about the latest materials reviewed by the Committee? Click here.