Story by Estuardo Secaira, Independent Consultant in Conservation and Protected Areas Planning and Management; Juan Carlos Villagrán, Marine Specialist, The Nature Conservancy; and Raquel Sigüenza, Coordinator, UNDP-GEF Project, "Conservation and sustainable use of biodiversity in coastal and marine protected areas (MPAs)"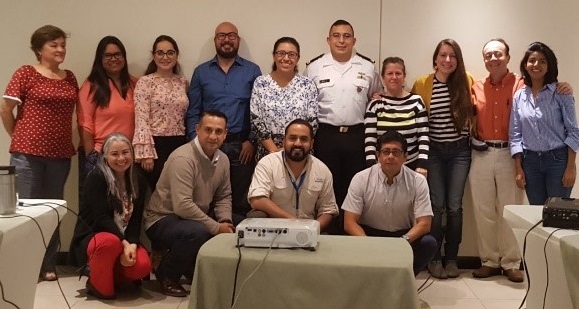 Participants in one of the final meetings of the marine planning process,
facilitated by two CCNet coaches and supported by two practitioners who know the Open Standards very well. Photo by Estuardo Secaira.
In late 2018, The Nature Conservancy and the Guatemala Fishing Authority, with support from a United Nations Development Programme's Global Environment Finance project, conducted the first ever marine spatial planning exercise for the Pacific Ocean of Guatemala. Over the course of 12 formal meetings, 49 people from 21 governmental, non-governmental, academic, and private institutions came together and used the Open Standards to:
Conduct a "classic" conservation plan that defined marine conservation targets (such as important fisheries, sharks and rays, whales and dolphins, marine turtles, and marine birds) and focused on marine-based threats and spatial strategies and solutions that we converted into zonation and regulations. Seven of the eight conservation targets we identified were defined as a zone, each with its own regulations.
Conduct a sectorial analysis in order to better understand the dynamics and challenges faced by the more relevant economic and/or biodiversity activities that occur in the Pacific Ocean of Guatemala, such as commercial and sport fishing, whale watching, and marine traffic. Analysis and discussion of all four activities resulted in the definition of zones and regulations, with commercial fishing being the most important and influential for spatial planning.
Throughout the planning process, the Guatemala Fishing Authority (DIPESCA by its Spanish acronym) was fully empowered and enthusiastic about implementing the proposed zonation and regulations.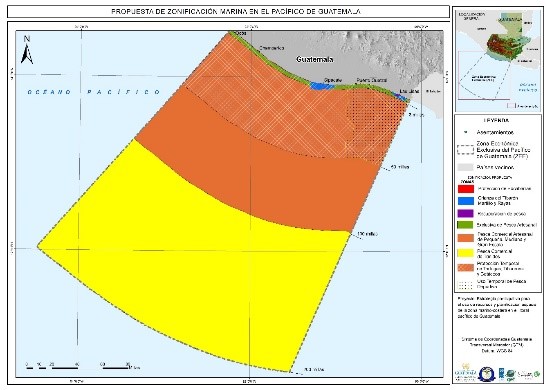 Marine zonation of the Pacific Ocean of Guatemala. Image shared by Estuardo Secaira.