You've probably heard about the release of version 4.0 of the Conservation Standards. Have wondered, "Is it worth taking a look? What could be so different?" Read on for some highlights. We hope you'll be persuaded to explore more on your own!  
Updating the Conservation Standards has always been a community effort. Version 4.0 is no exception. In fact, it had the largest number and range of contributors of any version. The Conservation Standards are truly a community product that grows stronger with each version as our community grows and evolves its collective knowledge and experience.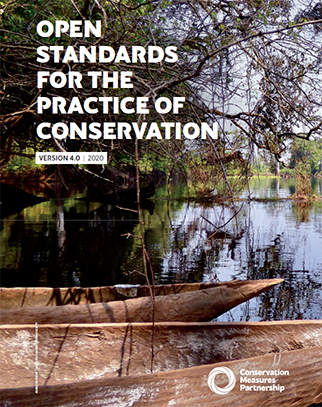 What's New: 
New look and feel

, including 

a fresh, colorful, dynamic new cycle, as well as beautiful and compelling images provided by our community members

 

Strengthened focus on the core standards and reduced "how-to" guidance, which is better addressed in more detailed companion documents

 

Greater detail on steps related to implementing conservation actions, analyzing monitoring data, adapting actions as needed, and sharing learning within and beyond conservation teams

 

Recognition of spatial dimensions relevant to various steps

 

Updated terminology to better communicate key concepts  

 
Clarification of the relationship between the 

Conservation Standards

 and other decision-support frameworks

 

Clarification about how the 

Conservation Standards

 support principles from adaptive management and evidence-based conservation 

 

Refinement of climate change considerations and how teams can better prepare for and address climate change

 

Updates from CMP's guidance on social dimensions and human well-being  

 

Enhanced explanation of how to address thematic projects

 
What's Next? Our multilingual, multicultural community needs the Conservation Standards in a variety of languages. The Conservation Measures Partnership is helping to fund translations in eight languages. Thanks to Gustavo Gatti at ConserveBrasil, we now have the Conservation Standards in Portuguese. French (Laurianne Besse Streit) and Spanish (Armando Valdés) are coming soon. We hope to have all 8 languages available by early 2021. Stay tuned!  
Follow us on Twitter and LinkedIn and check out our YouTube channel.