Story by Kellie Tannock, WGAC media adviser, Tom Vigilante, Wunambal Gaambera Aboriginal Corporation and Bush Heritage Australia and Cristina Lasch,  TNC and CCNet Operations Coordinator.
In early May this year, at the Conservation Coaches Network (CCNet) Rally, in the Blue Mountains, New South Wales, Australia, the Wunambal Gaambera people of the North Kimberley were recognised by the global CCNet community and CCNet Australia for their outstanding contribution to conservation practice. Their leadership has been instrumental in adapting the Healthy Country Planning process and their example as caretakers of ancestral Country is an inspiration.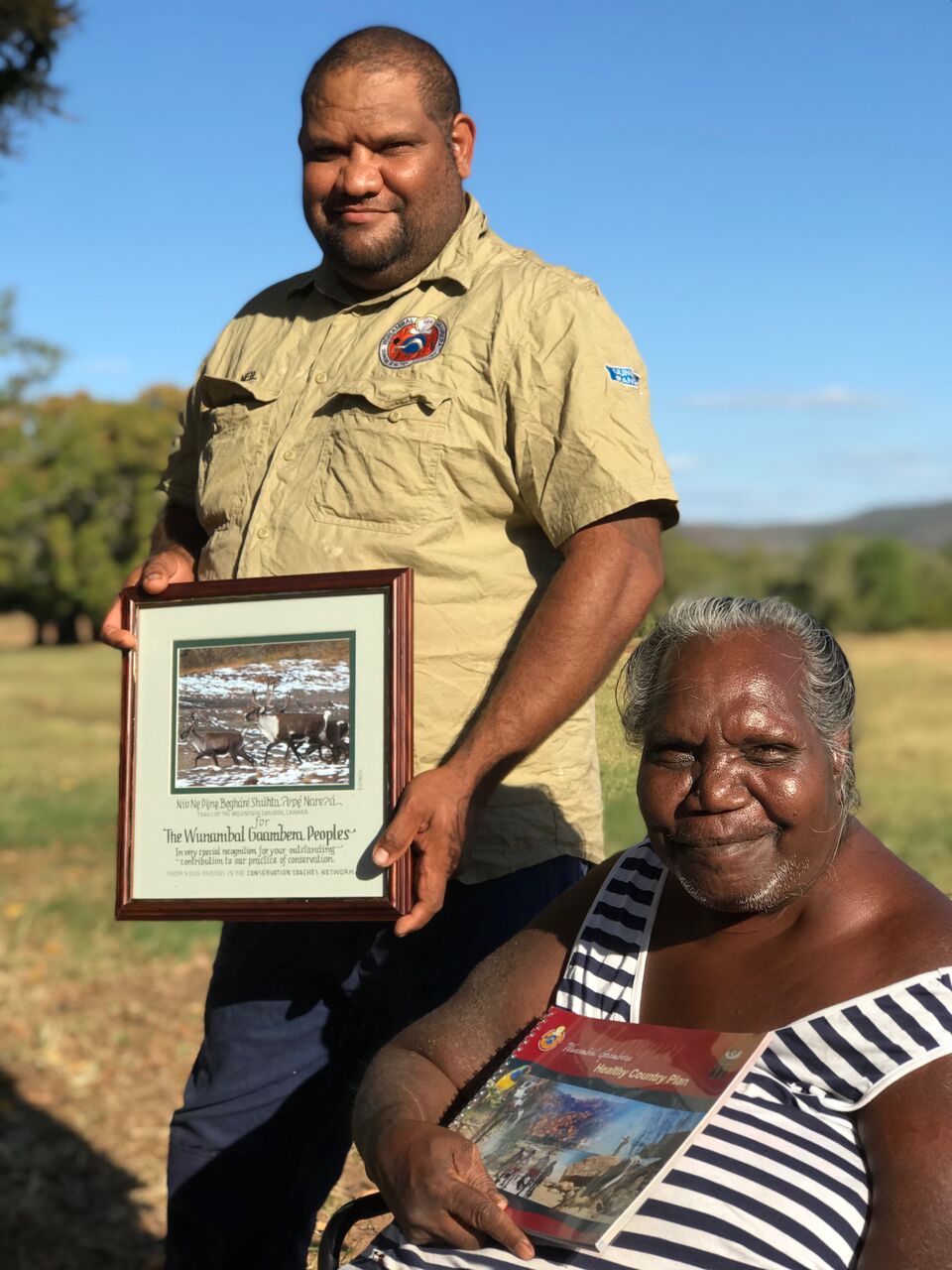 Head Uunguu Ranger Neil Waina holds the CCNet award while senior Wunambal Gaambera Aboriginal Corporation director Diana Williams shows their Healthy Country Plan. Photo by Tom Vigilante, Wunambal Gaambera/Bush Heritage Australia.
In 2006, the Wunambal Gaambera Aboriginal Corporation (WGAC), in partnership with Bush Heritage Australia, developed and subsequently implemented the world's first "Healthy Country Plan" – a community-owned plan for Wunambal Gaambera people and Country. Other key partners in this effort were the Kimberley Land Council (KLC), the regional Traditional Owner representative body, and the Australian Government's Indigenous Protected Area (IPA) and Working on Country programs.
When the Wunambal Gaambera Traditional Owners were introduced to The Nature Conservancy's Conservation Action Planning (CAP) method, equivalent to the Open Standards for the Practice of Conservation (OS), they recognised the benefits of using a widely tested conservation approach with an extensive support network and a strong ecological base, but they also wanted to ensure that traditional Wanjina Wunggurr law and culture would be an integral part of the process and the resulting plan. Back then few examples existed in Australia of CAP/OS being used in a cultural landscape and cross-cultural context. The partners adapted the conservation planning approach in ways that enabled the active participation of community members and to ensure that:
Wunambal Gaambera governance structures and protocols are supported and promoted
Wunambal Gaambera world-views and cultural perspectives are paramount
Wunambal Gaambera social, cultural and economic aspirations are incorporated with conservation outcomes
Wunambal Gaambera Indigenous knowledge and Western science are respected and integrated
Wunambal Gaambera people are the Native Title holders for 2.5 million hectares of North Kimberley land and sea. Developed and owned by the community, the Wunambal Gaambera Healthy Country Plan covers the full extent of Wunambal Gaambera Country regardless of tenure, and is really as much a plan for people as it is for country. The Wunambal Gaambera people know that if their country is healthy, then they will be healthy. 'Country' is an Aboriginal English term that refers to how Indigenous Australians understand and relate to their ancestral territory.
WGAC's Uunguu Rangers manage the area according to the Healthy Country Plan, which looks after important targets such as people, culture and cultural places, animals, plants, waterholes, and Right Way Fire.

After developing the plan, WGAC wanted to make sure it was used to guide its work. This led to the establishment of the ground-breaking Uunguu Monitoring and Evaluation Committee which meets every year to review the plan and make changes wherever needed to stay on track.
In 2015 WGAC was half-way through its 10-year plan, undertaking a mid-term review which also became a model for other groups.
Through this work WGAC has been a trailblazer in conservation planning, providing approaches and tools to share with other indigenous groups around Australia.
Thanks to WGAC and several dedicated conservation practitioners and organisations in Australia, today Healthy Country Planning (HCP) is a recognised adaptation of the Open Standards and has become the model for some 30 similar plans adopted by Indigenous groups around Australia and other places such as Canada. The HCP process guides project teams to identify effective conservation strategies and provides an objective, consistent, and transparent accounting of conservation actions and the intended and actual outcomes of conservation projects in a cultural landscape and cross-cultural context. It enables project staff to responsively adapt their actions to improve strategy effectiveness and achieve greater impact.
WGAC chairperson Catherine Goonack said Wunambal Gaambera people were proud to be recognised as conservation leaders, but also to have taken an early opportunity to continue looking after their ancestors' Country to global standards for generations to come.